Established in 1992 and covering 176 acres, the Heritage Rail Trail County Park is 21 miles long and runs north from the Mason Dixon line just south of the Borough of New Freedom through Glen Rock, Hanover Junction, and Seven Valleys in the Howard Tunnel to the Colonial Courthouse in the City of York. The trail connects to Maryland's 20-mile long Torrey C. Brown Trail. In addition to the Colonial Courthouse, three historic structures are located on the trail; Hanover Junction and New Freedom Train Stations and Howard Tunnel.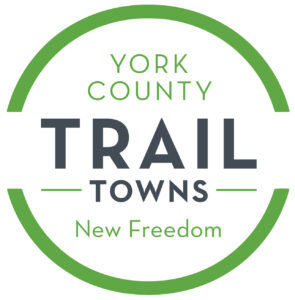 A Trail Town Community
Trail Towns are communities adjacent to public trails that choose to embrace the trail as an opportunity for economic growth and improved quality of life. Trail Towns programs use an integrated and asset-based, economic development approach that considers each town's existing resources, it's character and local businesses to develop a memorable and inviting trail experience for users including residents and out of town visitors alike.
Summit Grove Camp & Conference Center has a 220+ year history. The 43-acre property is nestled in a grove at the highest point of land located halfway between Baltimore, MD and Harrisburg, PA. Known for its huge open pavilion (Tabernacle), Summit Grove has hosted thousands of people over hundreds of years, and has been a central meeting ground for camps, retreats, conferences and events.