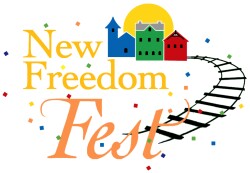 When
Sat, Sep 16, 2023 from 10am to 4pm
Where
22 Railroad Ave, New Freedom, PA 17349, USA
➥ Heritage Museum
Details
Saturday, September 16, 2023, 10AM-5PM
New Freedom Fest is an old-time "festival of small town life". It includes music, arts and crafts, animals, food, games, an art tent with pumpkin painting, and much, much more – all centered around the beautiful and historic town of New Freedom, Pennsylvania.
Fine Art & Crafts
Local artists and craftsmen including jewelers, potters, photographers, weavers and sculptors, will be selling their work and demonstrating from 10am to 4pm.
There will be kid's games ($5 lets you play all day), a pet parade, great food from local restaurants and world-class live entertainment at the Freedom Green. Local non-profit organizations and businesses provide information and offer fun insight into small town life. Free parking and free admission make this a day fit for any budget.
All Day Fun for the Kids
All Day Kids Games and hands-on activities including arts and crafts, pumpkin painting, face painting, and much more.
Pet Parade
The Pet Parade is a growing annual attraction at New Freedom Fest and something you and your family will not want to miss! 12:00 noon on the trail in front of the historic New Freedom Train Station. Nothing could be cuter than the Pet Parade benefiting Animal Rescue, Inc. Costumed animals and their owners parade through the entire New Freedom Fest grounds as bystanders snap pictures and exclaim with delight. All species are welcome.
Take A Ride On The Trains
Join the Northern Central Railway on a relaxing 20-minute round trip ride to Railroad. The historic 1959 PRR GP9 diesel locomotive follows the route of the original Northern Central Railroad through the scenic Heritage Rail Trail County Park. Northern Central Railway is an excursion railroad that makes time travel possible! The historic attraction, with a replica 1860's steam locomotive and a 1959 GP9 diesel engine, hosts excursions that educate, entertain, and enlighten.
Food
A varied selection of excellent food will be provided for sale from regional restaurants including crab cakes, pit beef, pulled pork, burgers, fries, kettle corn, fancy cookies, ice cream, smoothies and much more. Various soft drink beverages will be available for sale.